Welcome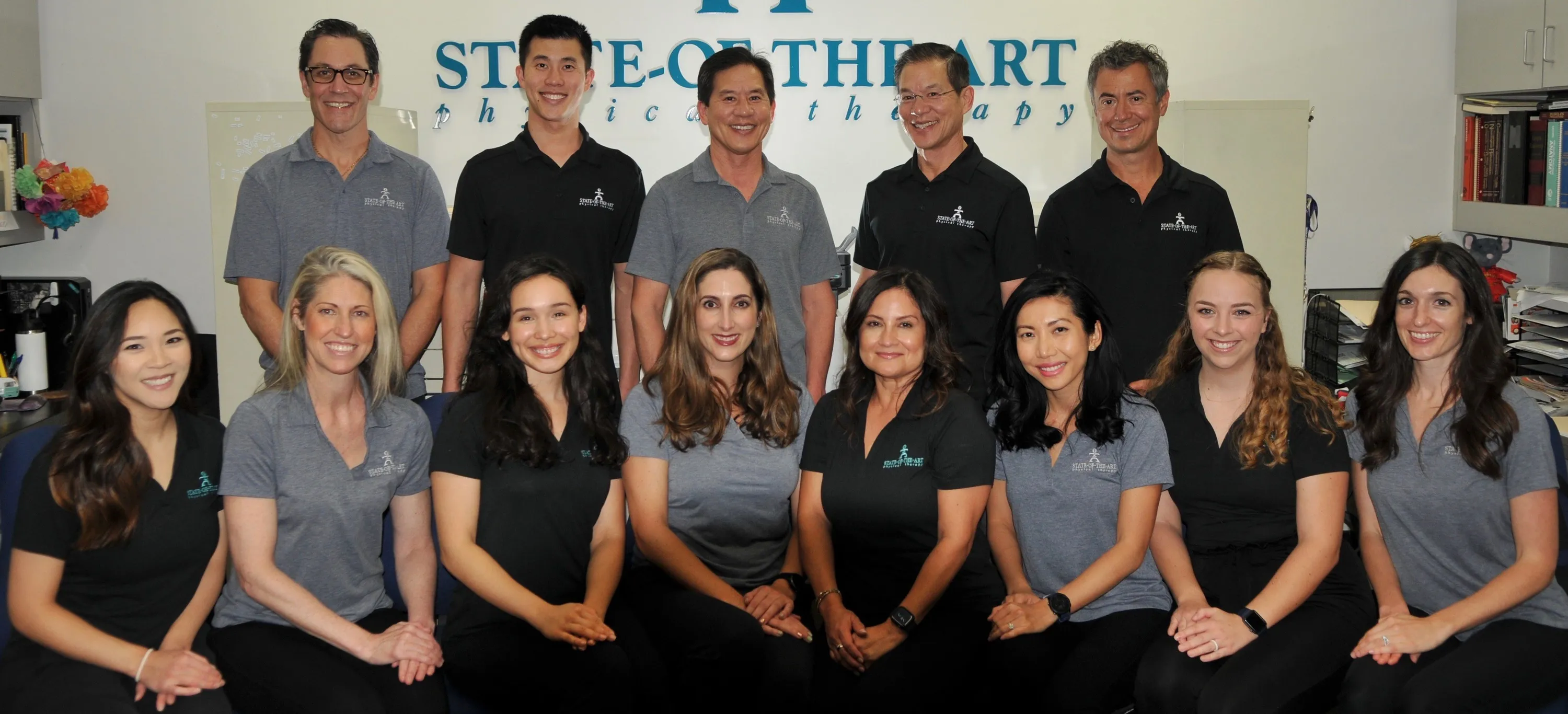 The State-of-the-Art Physical Therapy Team
At State-of-the-Art Physical Therapy in Tustin, we take pride in our commitment to excellence, integrity and quality physical rehabilitation. Since 1986, our ongoing goal is to provide our patients with an individualized and effective physical therapy treatment plan designed to restore and maintain optimal body function as well as improve overall wellness. We provide hands-on physical therapy each visit with a highly experienced physical therapist utilizing the latest in therapeutic techniques and technology to accelerate your healing process. Let us help you return to your best health and quality of life.
We also offer Pelvic Floor Physical Therapy
What We Do
Post Operative Recovery and Rehabilitation
Sports Injury Recovery and Rehabilitation
Pain Reduction and Management
Personal Fitness Training
Muscle Sprains and Strains
Adhesive Capsulitis (Frozen Shoulder)
Knee Replacement
Hip Replacement
Shoulder Rotator Cuff
Osteoarthritis
Rheumatoid Arthritis
Sciatic Nerve Pain
Back and Neck
Wrist and Hand
Ankle and Foot
Elbow and Wrist
Massage Therapy
Tennis Elbow
Plantar Fascitis
Fibromyalgia
Carpal Tunnel Syndrome
Headache Pain
Why Choose Us?
Hands-on, One on One Physical Therapy with a physical therapist
Latest therapeutic techniques and equipment. WE GET RESULTS!
We treat you like family
Highly skilled and experienced physical therapists who are dedicated to patient wellness
Full exercise and fitness training facility
Ultrasound and Electrical Stimulation therapy
Personal Fitness Training
Pilates Training (private and semi-private sessions available)
Certified Back to Golf Performance and Fitness Program Specialists designed for golfers
Certified Kinesiotape specialists
Custom designed home exercise programs
Over 30 years in business
5 star rating on Yelp reviews
Awarded

Best Physical Therapy Clinic

in Tustin for 6 Consecutive Years: 2018, 2019, 2020, 2021, 2022, and 2023
Insurance Plans
All PPO Plans Accepted
Medicare Accepted
Cash Discounted Rates Available
Payment Methods
Cash
Check
Visa
Master Card
American Express
Discover
Location
We are located at 2492 Walnut Ave in Tustin on the South/East corner of Tustin Ranch Road and Walnut Avenue. Our building is set back behind the Crossroad Church building and in the same building as Sunrise Medical. Please drive around the right side of our building to our private entrance.
Proudly serving: Tustin, Irvine, Orange, Santa Ana, Costa Mesa, Anaheim, Newport, and other cities in the surrounding Orange County area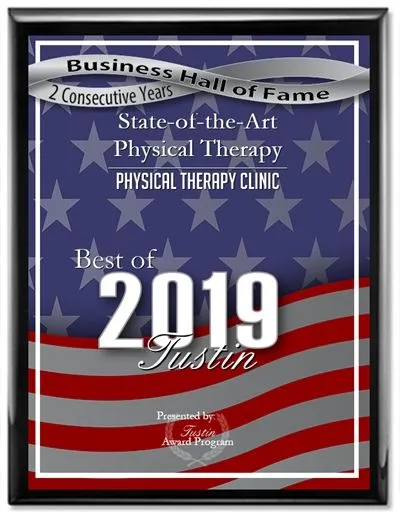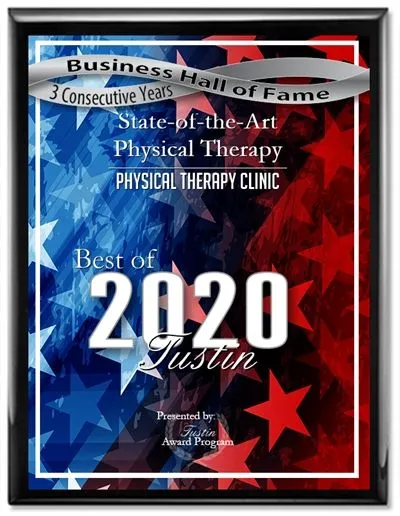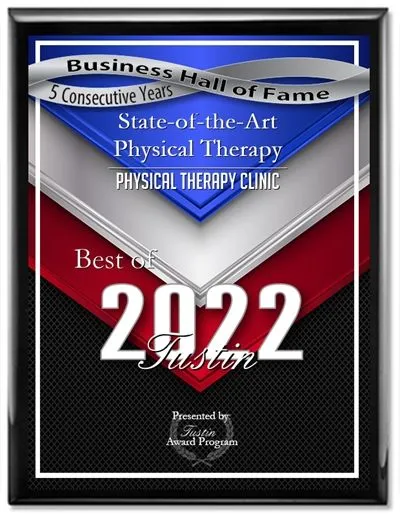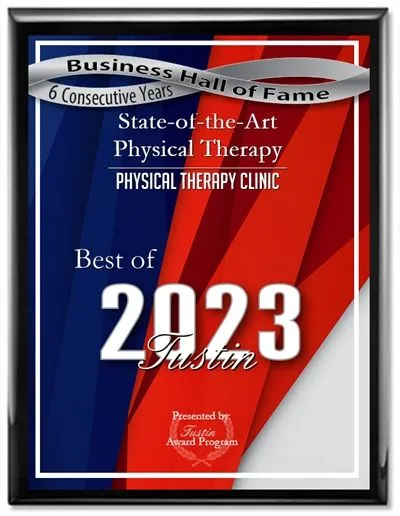 Brian Wong of State-of-the-Art Physical Therapy is a physical therapist in Tustin, CA, who can handle many needs. As the highest-rated physical therapist in the area by Google and Yelp, we feel confident that we can provide the care that will help you recover.

What is State-of-the-Art Physical Therapy?
State-of-the-Art Physical Therapy was founded by Brian Wong and his brother in 1986 to provide Tustin residents with hands-on physical therapy. Our treatments include detailed plans designed to restore strength, mobility, and flexibility to your injured body parts. We utilize the latest therapeutic techniques and the most high-tech devices to restore your health and improve your life.
Come to Us If You Have These Problems
Brian Wong and his team of excellent physical therapists have over 30 years of experience helping people in Tustin recover from many ailments. They can help various diagnoses and symptoms and give you the recovery help that you need. We will take all PPO insurance options. Just a few things that we can help you with include:
- Neck, back, and knee pain
- Shoulder and other joint concerns
- Sports injuries
- Auto accident pain and suffering
- Pelvic floor physical therapy needs
Top Treatments State-of-the-Art Physical Therapy Provides: Our team can provide many therapy options to treat your symptoms. Just a few things that we can provide include:
- Manual therapy to restore flexibility and reduce pain
- Class IV Laser Therapy to help your tissues heal sooner
- Therapeutic exercises that increase your strength and stabilization
- Alter-G Antigravity Treadmill to minimize impact-related pain for a faster and safer return to running
- Pelvic floor physical therapy for women's and men's health needs
We Provide Care Tustin Can Trust
With over 30 years in business and a perfect five-star rating on Google and Yelp, State-of-the-Art Physical Therapy can provide you with the help that you need. Winning "Best Physical Therapy Clinic in Tustin"; from 2018 to 2023, we can provide the physical therapy help that Tustin, CA, residents need. Call us at 714-544-2188 to get started.